As the captain of the Kennel and the son of a dogman, working with animals is in his genes. His passion and enthusiasm is the gift that he shares with anyone who appreciates man's best friend. From the curious to the extremist, all kinds of dogs no matter the breed, size or color, everyone has a favorite. In 1999 Dietrich was discharged from the U.S. Marine Corp and began to pursue his childhood dream of working with dogs. 8yrs ago DJ Muggs and Dietrich decided to introduce Soul Assassins Kennel to the world.

In 1985 I started to round up neighborhood dogs and rehabilitate them. I knew I couldn't keep them since they were strays and to make matters worse my parents weren't dog people. Around this time I began to get in some major trouble so pops gave me an ultimatum to act better or else, so we made a pact. If I stayed true to what he asked of me then he'll repay me with whatever I wanted. A trouble free year passed in which time he offered me whatever I wanted. So I told him a dog...

A veteran breeding professional handler and groomer, Lenard is motivated and eager to learn all aspects of the pet care industry. Lenard apprenticed under some of the top professional handlers in the country. Lenard apprenticed under Mr. Woodie Wardel, one of the top terrier handlers and groomer in the United States from 1995 to 1997. In 1997 to 1998, Lenard apprenticed under Mr. Andy Litten one of the top group place winners at Westminster Kennel Club, New York City.

As a young man growing up in a rural environment i had a love for large animals but when i moved to the suburbs i shifted all of my attention towards dogs. I purchased my first purebred dog from a now good friend of mine and i have been involved in the sport of showing and competing with purebred dogs ever since. I have made great strides to produce some of the finest dogs out there that fit the written breed standard, are aesthetically pleasing and free of any congenital defects. I have done all of this while working as a veterinary technician and attending school in hopes of one day becoming a Veterinarian. I am currently an Animal Science and Management major at the nations leading school in that field.
I have always had a love of dogs and knew that someday I would become a trainer. I began training dogs professionally at Lackland AFB, while serving in the Marine Corps in 1983. After serving four years in the Corps having been stationed in San Diego and Okinawa. In 1987 I moved to Los Angeles and began training with California Police Dogs and American K-9 College. Since then I have continued to hone my skills as a trainer and have a proven track record as both handler and trainer. Today I am proud to be a part of SA Kennels and Kennel Master.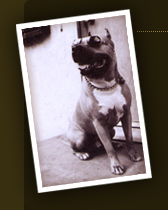 Is a AKC American Staffordshire Terrier. Blue is the Soul Assassins mascot if there was one. Blue is mister Hollywood. He is a model, tv and music video star. He is MR BLUE.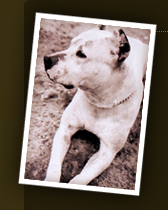 Is a 100% ADBA American Pit Bull Terrier. He gets his name from the movie Major Payne because of his likeness to the character. He is extremely focused on training all the time. Major is a very serious and loveable dog.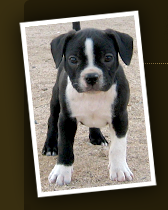 Is a SA Terrier. He's Majors mini me. The SA Terrier is sure to be a huge hit as we introduce this pint size protection machine to the world. Personality and appeal is what makes a great breed of dog and Gunny is a leader of the pack.